Gorgeous hairstyles don't have to come at the cost of damaging your precious locks with heat styling tools. Heat-free hair styling tools offer a safe and effective way to create stunning looks without subjecting your hair to high temperatures. Whether you have long, luscious hair or a chic bob, these heat-free alternatives will help you achieve magical hairstyles while protecting your strands from unnecessary damage. With its advanced technology, the heat styling brush effortlessly tames frizz and leaves your hair looking smooth and polished. In this comprehensive guide, we'll introduce you to a range of heat-free hair styling tools that will revolutionize your hair care routine and unleash your hair's natural beauty.
1. Hair Rollers: Classic Volume and Graceful Curls
Hair rollers have stood the test of time for a good reason – they provide fabulous volume and graceful curls without exposing your hair to heat. Whether you're preparing for a special occasion or just want to add bounce to your everyday look, hair rollers are your go-to solution. Opt for foam or Velcro rollers, depending on your hair type and desired style. With hair rollers, you can achieve beautiful hairstyles while keeping your hair healthy and damage-free.
2. Flexi Rods: Embrace Your Natural Texture
For those with textured or curly hair, flexi rods are a revelation. These soft, bendable rods gently shape your curls without any heat, promoting the health and natural beauty of your hair. Flexi rods come in various diameters, allowing you to customize your curl size and create a range of stunning looks. Whether you want tight ringlets or loose waves, flexi rods make heat-free styling a breeze.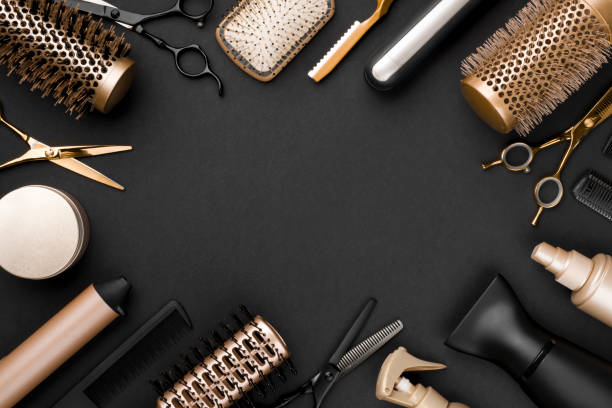 3. Hair Braiding: Versatility and Charm
Braids are not only chic and stylish but also heat-free and versatile. From classic French braids to trendy fishtail braids, the options are endless. Experiment with different braid styles to suit various occasions and elevate your look effortlessly. Braiding not only protects your hair from heat damage but also promotes hair health by reducing friction and breakage.
4. Hair Twists: Effortless Sophistication
Hair twists are an elegant and heat-free alternative for achieving sophisticated hairstyles. Create twists along the sides or at the back of your head, or even combine twists with braids for added flair. With hair twists, you can create stunning updos or enhance your natural texture for a chic and effortless look.
5. Hair Pins and Clips: Quick and Stylish
Hair pins and clips are valuable tools for heat-free styling. Secure your twists, braids, or updos in place with decorative hairpins to add an extra touch of style to your look. Whether you prefer delicate pins or statement clips, these accessories elevate your hairstyle without any heat required.
6. Hair Styling Accessories: Fun and Fashionable
Explore a world of hair styling accessories, from headbands and scarves to hair wraps and bows. These accessories not only add charm and flair to your hairstyle but also protect your hair from the damaging effects of heat styling tools. Embrace your creativity and mix and match accessories to achieve unique and eye-catching looks.
7. Hairbands and Hair Ties: Quick and Easy Styles
Hairbands and hair ties are perfect for achieving effortless styles in minutes. Create ponytails, half-up styles, or messy buns for a laid-back yet chic appearance. These simple and heat-free options ensure your hair remains healthy and vibrant.
8. Bobby Pins and Hair Clips: Precision and Perfection
Bobby pins and hair clips are essential for securing your hairstyles in place without heat. Create intricate updos or pin back loose strands with these small but powerful tools. A little creativity with bobby pins can lead to stunning hair designs that reflect your unique style.
9. Hair Combs and Hair Sticks: Graceful Glamour
Hair combs and hair sticks offer an elegant touch to heat-free hair styling. Tuck them into your updos or twists for added glamour and sophistication. Choose combs and sticks that complement your style, and enjoy effortless yet refined hairstyles.
10. Hair Powder and Dry Shampoo: Volume and Texture
To enhance volume and texture in your heat-free hairstyles, use hair powder or dry shampoo. These products add lift and grip to your hair, making it easier to achieve stunning looks without heat styling.
Conclusion
Heat-free hair styling tools provide a world of possibilities for creating magical hairstyles without damaging your locks. Embrace the versatility and charm of hair rollers, flexi rods, and hair braiding to achieve stunning looks that protect and enhance your natural hair. Explore the fun and fashionable side of hair accessories and embrace the ease of hairbands and hair ties. With heat-free alternatives, you can effortlessly create flawless hairstyles that showcase your unique style and keep your hair looking healthy and fabulous.